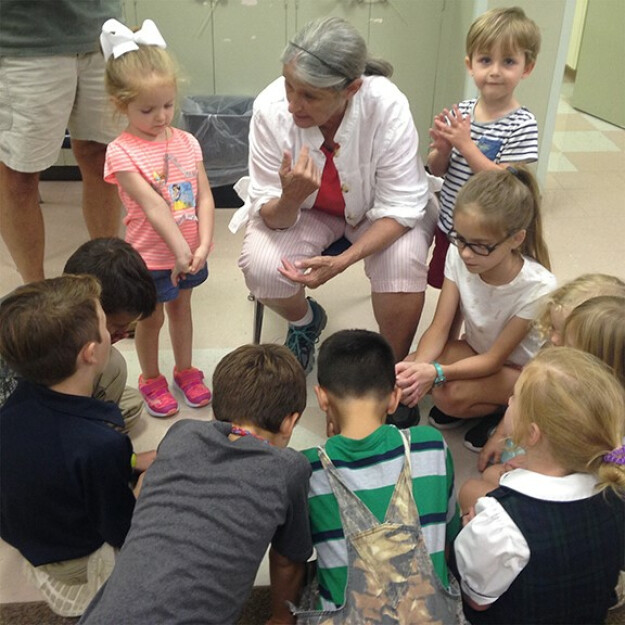 Wednesday Night Programs
Every Wednesday, from 09/05/2018 to 11/07/2018, 5:15 PM - 7:00 PM
Dinner is served in the Fellowship Hall from 5:15pm - 6:00pm. Then we offer the following programs from 6:00pm - 7:00pm:
Children - Children's Fellowship Hall

The theme for our programs this semester is 'Giving Thanks' Lizzy Rhett
Youth (grades 6-12) - Youth House

Small Groups (2 boys groups, 1 girls group) will meet in the Youth House. Time is spent each week talking about what is going on in students' life and applying scripture to show how faith in Jesus transforms daily life. Andrew Mills
Adults
Triggers, Exchanging Parents Angry Reactions for Gentle Biblical Responses - The Parlor
This class is not just for moms but for all women! The focus will not only be on parenting issues, but also those of the heart in general. This book "thoughtfully and honestly addresses numerous issues that set us off and then point us to a better way through God's word." Led by Dees Guidry .
Exploring the Patriarchs - Room 201
We all know the stories but what about the Men? Men such as Adam, Noah, Abraham, Isaac, Jacob, Joseph and others. What does the Bible teach about these Patriarchs? Come explore these heroes of Genesis and learn how their lives should impact ours today. Led by Rev. Greg Anthony .
The Gospel According to Mayberry - The Fellowship Hall
Many of us grew up watching the Andy Griffith Show. It was immensely popular, and remains so even to this day, perhaps because it reminds people of simpler times (or so we like to think). The truth is, technological advances aside, the good citizens of Mayberry faced life problems no different from what we face today. Their responses to the problems play out like modern day parables for the teachings of Jesus. In each class an episode of the show will be followed by a discussion of what teaching(s) of Jesus are demonstrated, how it is applied by the characters, and how we can do the same. Come meet us at the fishing hole! Led by Brooks Mosley, Doyle Hays, Jeff Weill, and Steve Ray .