Our Youth Ministry is open to all youth in 6th - 12th grade. Activities on campus take place in the Youth House located on the east side of the church (the back parking lot).
Drop off and pick up for activities off campus is in front of the Youth House. Look for the church bus!
---
Sunday Mornings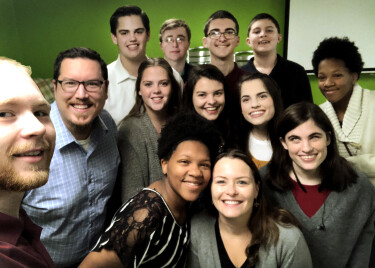 The focus of our Sunday morning program is on laying a solid biblical foundation upon which students can build their life.
We are currently studying the life of Isaac and Jacob in Genesis 25 - Genesis 35
9:00am-10:00am Sunday School
On the third Sunday of each month, youth are encouraged to serve as greeters for our 10:25am service. After Sunday school they will pick up a Greeter tag in the foyer and welcome each person with a smile and a bulletin or children's worship guide. Greeters will be stationed at the front door of the church and at the connection between the atrium and the foyer. Once the service starts, they may return their greeter tag and join worship.
---
Sunday Nights
January 20th - May 5th

The focus of our Sunday Night Youth Group is on relationship building through fun activities.
4:00pm Fun and Games on the Field
5:00pm Worship & Devotion
5:30pm Dinner
---
Wednesday Nights
January 23rd - April 24th

In our small groups, time is spent each week talking about what is going on in our students' lives and teaching from scripture how faith in Jesus transforms daily life.
We currently have 2 boys groups (6th-8th grade and 9th-12th grade) and 1 girls group (6th-12th grade).
6:00pm-7:00pm Small Groups
---
For More Information