We have a 9:30am Worship Service every Sunday with a Children's Church (3-K) and nursery offered during this service as well. Sunday School classes for all ages begin after the Worship Service at 10:45am.
More information about our worship service and the precautions we are taking can be found on the Worship Schedule and Precautions page.
Morning Worship
Our worship services draw on our Reformed tradition which is focused on glorifying God and is centered upon His Word. Every week we use the book of Psalms as our Call to Worship, we have a time of confession followed by a proclamation of the gospel, and we use the Apostle's Creed and Lord's Prayer. The same sermon is delivered at each service.
Our traditional service takes place in the sanctuary, and music is led by organ and choir. We do not have screens in our sanctuary, but Hymnals and Bibles are located in the pews, and bulletins are available from our greeters.
Please enjoy one of our designated Visitor Parking spaces in front of the sanctuary.
Parking & Accessibility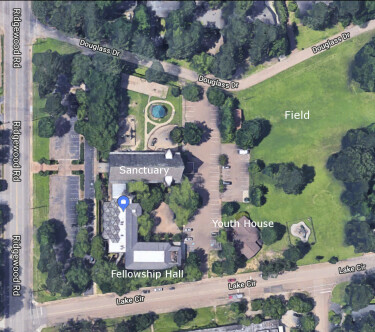 Covenant is located at 4000 Ridgewood Road, Jackson, MS 39211. We have two on site parking lots which can be accessed from either Douglass Drive or Lake Circle. Both lots have designated handicap spaces. The lot in front of the church (visible from Ridgewood Road) provides easy access to the second floor of our building (Sanctuary, Parlor, Adult Sunday School Classrooms, Offices). The back lot provides access to the first floor of our building (Fellowship Hall, Nursery, Children's Ministry area, Preschool) as well as the Youth House, Scout Hut, Field, and Playgrounds.
Ramp access to the building is available on the south side of the front lot (facing Lake Circle and Casey Elementary School). An elevator can be accessed from the back lot between the Nursery and Fellowship Hall.
Hearing Assistance Devices, large print bulletins and hymns are available from our Greeters.
Children
Children of all ages are invited to participate in the entire service of worship. We have a Children's Worship table set up with Children's Bibles, Catechism Books, Sermon notes pages, and other supplies to make worship more engaging.
Our nursery for children age 2 and below is located on the first floor in rooms 163 and 173 (near the Fellowship Hall). Drop off for nursery begins at 9:15am.
Children's Church is available for children in Kindergarten and below during the 9:30am service. Children will be escorted from the service to Room 128 (located on the first floor) just prior to the sermon. Parents can pick them up from the Children's Church Room after the service.
We take the safety of all children who come to our church very seriously. Every one of our volunteers have passed background checks and received training through Ministry Safe.
Baptism
At Covenant we joyfully baptize believers and their children. Learn more about baptism here.