Our Youth Ministry is open to all youth in 6th - 12th grade. Activities on campus take place in the Youth House located on the east side of the church (the back parking lot).
Drop off and pick up for activities off campus is in front of the Youth House. Look for the church bus!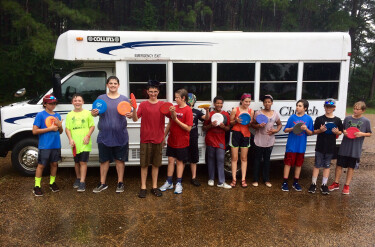 ---
Sunday School (Not Presently Meeting due to COVID)
9:00 am - 10:00 am
The focus of our Sunday morning program is on laying a solid biblical foundation upon which students can build their life.
On the third Sunday of each month, youth are encouraged to serve as greeters for our 10:25am service. After Sunday school they will pick up a Greeter tag in the foyer and welcome each person with a smile and a bulletin or children's worship guide. Greeters will be stationed at the front door of the church and at the connection between the atrium and the foyer. Once the service starts, they may return their greeter tag and join worship.
---
Sunday Night Youth Group
January 31st - May 9th
4:00 pm - 5:30 pm

The focus of our Sunday Night Youth Group is on relationship building through fun activities.
4:00 pm Fun & Games
5:00 pm Worship & Devotion
---
Wednesday Nights
(Not Presently Meeting due to COVID)
January 22nd - April 19th
6:00 pm - 7:00 pm

In our small groups, time is spent each week talking about what is going on in our students' lives and teaching from scripture how faith in Jesus transforms daily life.
We currently have 2 boys groups (6th-8th grade and 9th-12th grade) and 1 girls group (6th-12th grade).
6:00pm-7:00pm Small Groups
In July 2020, we will meet on Wednesday nights from 5:30pm to 7:00pm following social distancing guidelines and staying outdoors as weather allows. No dinner will be served.
---
The Great Escape Summer Camp
July 26th - 31st, 2021
For all rising 6th graders to rising 9th graders.
Invite your friends and join us for an incredible week of summer fun at Twin Lakes Camp!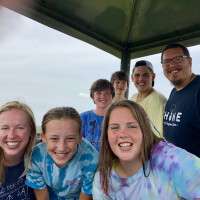 If you are familiar with Twin Lakes (Florence, MS), then you know that this camp has it all!
A High Ropes course complete with a zip line and rock climbing wall, archery and riflery, a pool and lake to swim in, canoes and Kayaks to race, basketball, volleyball, soccer, disc golf, a crud war, hammock island, air-conditioned cabins, good food, awesome programs, and all your new best friends!
The Great Escape is a retreat thoughtfully designed for middle school students. It is organized by church youth leaders who know that a summer camp experience provides youth an unparalleled opportunity to build strong relationships with one another and their church leaders, and hear the gospel of Jesus Christ in an atmosphere where they feel comfortable and loved.
It is truly a great escape from the pressures of the world!
---
For More Information