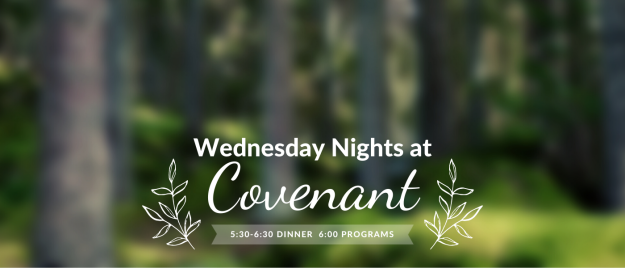 Spring Wednesday Nights
Every Wednesday, from 01/18/2023 to 04/26/2023, 5:30 PM - 7:00 PM
Dinner 5:30-6:30pm
Dinner is served from 5:30pm to 6:30pm allowing adults to eat during the program, and the menu features your favorites in adding to gluten-free and kid friendly options. Dinner is $5 for Adults; Students and Children eat free!
Programs are from 6:00pm – 7:00pm
Adults - (Fellowship Hall) led by Pastor Josh, the adult study will focus on mission using the book "Across the Street and Around the World" by Jeannie Marie (copies will be available at the church). On the first night (January 18) Pastor Josh will report on his November trip to Beirut where he visited The Philemon Project, a ministry supported by Covenant.
Youth – (6th - 12th grade, Youth House) Youth will have devotions from the book of Proverbs.
Children – (through 5th grade, downstairs) Children will be playing games, doing crafts, and learning about the power of prayer.
There will be no dinner or programs on Wednesday, March 15 (Spring Break).