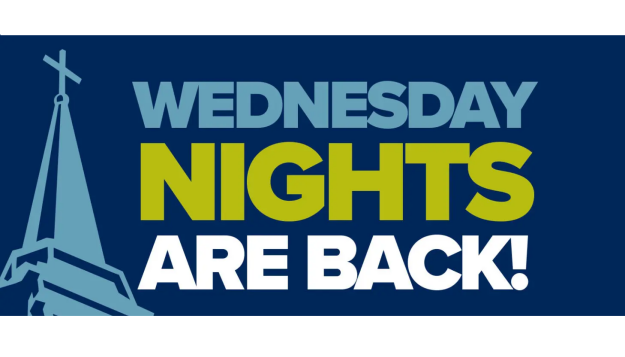 Wednesday Nights at Covenant - Fall 2021
Every Wednesday, from 09/08/2021 to 11/17/2021, 5:15 PM - 7:00 PM
Wednesday Night activities at Covenant for all ages: September 8 – November 17.
Supper is served in the Fellowship Hall from 5:15pm - 6:00pm followed by programs from 6:00pm – 7:00pm.
Adult Discipleship
• Daily Prayer Life led by Scott Cheatwood (Fellowship Hall) This fall we will explore Scripture and several teachings on prayer in an effort to strengthen our daily prayer life for God's glory!
• Prayer Support Group led by Ginger Steadman (Parlor) please join me in the parlor weekly for a time of communion with God in prayer. The most important activity we can engage in as Christians is prayer. Prayer's greatest reward is the chance it gives us to experience the heart of God. Everything connected with God evolves out of time spent alone with Him in praise, worship, devotion and petition. Mark your calendar and hope to see you then.
Youth Ministry (Grades 6 - 12 meet in the Youth House)
• Wednesday Night Small Groups - In our small groups, time is spent each week talking about what is going on in our students' lives and teaching from scripture how faith in Jesus transforms daily life. We will be picking up where we left off in our study through the book of Proverbs.
Children's Ministry (through 5th Grade, downstairs)
• During our Wednesday nights together, we seek to follow our purpose to "glorify God by cultivating joyful, faithful, and steadfast followers of Jesus Christ who love God, people, and life." Together, we learn more about what it looks like to serve as disciples (whether in town or abroad) and share the Gospel.