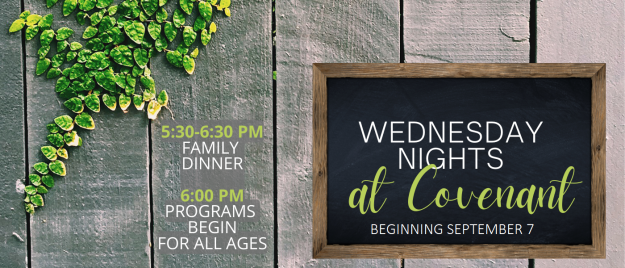 Fall Wednesday Nights
Every Wednesday, from 09/07/2022 to 11/24/2022, 5:30 PM - 7:00 PM
Wednesday Night Dinner & Programs
Dinner 5:30-6:30pm ~ Programs 6:00-7:00pm
New Dinner Time: 5:30pm to 6:30pm allows adults to eat during the program if they are unable to make it before 6:00pm.
New Food choices: Chef Marlon will be cooking the classics you love and showcasing some delicious new menu items. Additionally, a healthy choice and kid friendly option will be available each Wednesday. The menu will be shared in advance, so there are no surprises
Dinner is $5 for Adults; Students and Children eat free!
Programs are from 6:00pm – 7:00pm
Adults - (Fellowship Hall) The Final Discourse of Jesus - A Study of John 13-17 led by Pastor Josh
Youth – (6th - 12th grade, Youth House) Youth will have devotions from the book of Proverbs.
Children – (through 5th grade, downstairs) Children will be playing games, doing crafts, and learning about the power of prayer.
Take a break from cooking and enjoy a restful time of fellowship and learning with your church family!